May 29, 2021 - 02:00:AM
News
---
In 2018, we had the opportunity to attend an entrepreneurship seminar together with Mr. Sandiaga Uno, who in 2021 served as Minister of Tourism and Creative Economy. It is a great honor for us to be able to introduce the digital business potential of our area and small town. We gave a few presentations and informed him and the seminar participants that our products have received more than 25x the best product awards from international marketplaces.
On the same occasion we also stated that the achievements of Mr. Sandiaga Uno are certainly much higher than us, but instead of being proud of himself, he returned to return praise to us. Of course we feel that we need more to learn from him.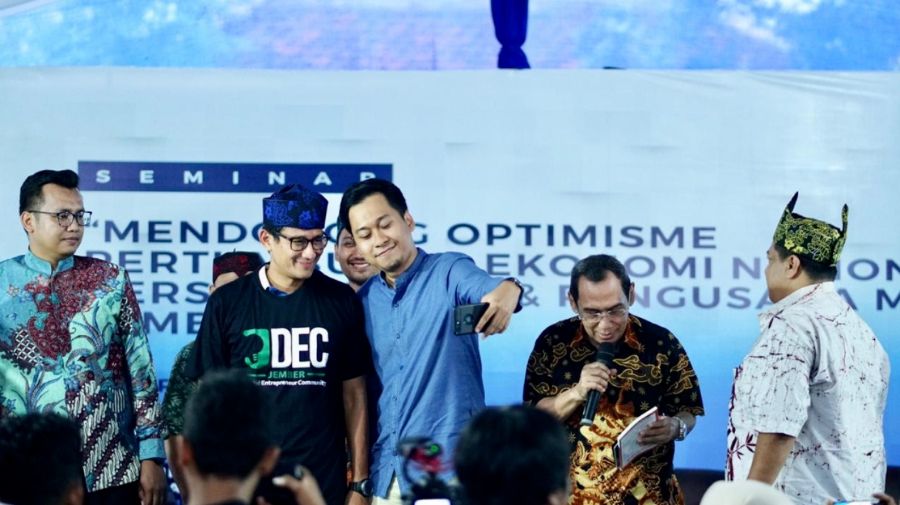 In addition to introducing rootpixel and levidio, we also presented many start-ups and creative economy businesses in Jember Regency, a small city located more than 900km from the capital city of Indonesia. We aim to inform that we are already in industrial revolution 4.0 era, which allows us to work without limits, even wherever we live, we can introduce and market our products to all corners of the world.
At the end of the session I had the opportunity to give a T-shirt to the digital business community in Jember, namely JDEC (Jember Digital Entrepreneur Community) and unexpectedly Mr. Sandi wore it right away, so we didn't want to miss the opportunity to take a selfie with him. A good memory and a wonderful motivation for us to be able to continue to provide the best work possible.
---